Brit and Taylor Swift have known each other since before they could speak, and Taylor met Brit's fiancé Ben Lamanna when they were 4.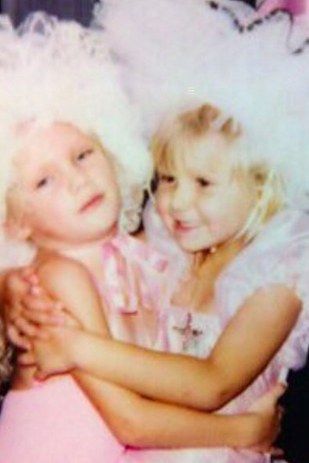 Taylor and Britany Maack have been best friends forever, and on Saturday, Tay-Tay got to watch her BFF get married.
"I met her when I was 10 days old, and him in kindergarten," the singer captioned a group shot of the wedding party. "Now they're married and I'm the happiest maid of honor ever.
Taylor Swift made her way down the aisle for some hometown "I dos." Before you get too excited, no, she wasn't tying the knot with Calvin Harris (but we can dream, can't we?). She was standing by her best friend's side as she got hitched to her childhood sweetheart. Swift's maid-of-honor dress at her BFF Britany Maack's wedding has been making the rounds on the 'net (And for good reason! Seriously, have you seen that thing?), but it's her too-sweet MOH speech that's got us reaching for the Kleenex.
In the newly-released wedding video of the hometown nuptials, Swift's longtime bestie Britany wed Benjamin LaManna in Reading, Pennsylvania. And although all eyes are on the bride throughout the 11-minute video, we can't help but notice her award-winning maid of honor.
Taylor Swift
of course helped her friend get glam, made sure her gorgeous Reem Acra gown was without a flaw, and stood beside her for her "I dos" (you know, just typical MOH duties...), and then completely shut it down with an out-of-this-world maid-of-honor speech. Starting off by reminiscing on the couple's adorable beginnings, Swift had us hooked from the moment she grabbed the mic. "He would chase her and pursue her through middle school and junior high and high school, and their paths would diverge, and then come back together," she said at the reception. "It would be so magically unpredictable, but at the same time, so incredibly fated just like the best love stories are." Wait a minute, are these lyrics to a Taylor Swift love song, because their story sounds like an absolute fairytale!
"My favorite accomplishment of my entire life is that everything in my life has changed except for me and Britany," Swift continued. "She was my partner in crime at Brownie's sleepaway camp and she was my date to the Grammys. And little did either of us know that prince charming for Britany would be the kid that sat next to me in class with a bowl cut and a Lego lunchbox." Are you paying attention, MOHs of the world? Y'all got some competition!
Her maid-of-honor speech wasn't the only thing Swift slayed. The superstar songstress also broke it down on the reception dance floor with some killer moves and of course took the stage to serenade the newlyweds with her Grammy-winning pipes. Pulling double duty as maid of honor and wedding singer? Swift just won all the BFF awards!
You might notice how gorgeous Brit's gown is. Since Taylor is the best MOH ever, she took her to Reem Acra's showroom to get a dress (and snagged herself one too).